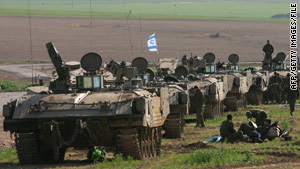 Israel
's military chief of staff warned Tuesday that the repeated rounds of escalated violence in the south would eventually require Israel to carry out another large-scale military operation in Hamas-controlled
Gaza
.
"We cannot continue with one round after another," the official, Lt. Gen. Benny Gantz, told a closed meeting of the Parliament's Foreign Affairs and Defense Committee. He said the point at which a military operation would become necessary was "drawing closer."
General Gantz's assessment came during a routine security briefing to the parliamentary committee. The military later released a summary of his remarks.
...
General Gantz said the recent air strikes had succeeded in setting back Islamic Jihad's rocket production system.
In his comments on Gaza, he said Israel would not be "dragged into" an operation there, but would rather initiate an orderly one.