Saudi Arabia has taken a first step to have Iran reported to the United Nations Security Council, a move that could lead to new sanctions, over an alleged plot to assassinate its ambassador in Washington, Saudi-owned newspapers reported on Sunday.

"Saudi Arabia's permanent mission to the United Nations... formally requested the United Nations Secretary General notify the Security Council of the heinous conspiracy," the Asharq al-Awsat newspaper reported, citing a statement from the kingdom's U.N. mission.

The U.S. on Tuesday said it had uncovered a plot by two men with links to Iran's security forces to assassinate Adel al-Jubeir by planting a bomb in a Washington restaurant.
One of the men, who had allegedly paid a U.S. undercover agent posing as a Mexican drug cartel hitman to carry out the assassination, has been arrested while the other is in Iran, the United States said.

Tehran has denied the charges.
Iran Denies the Charges, and
MEMRI
has the initial reaction out of Iran:
Hours after the October 11, 2011 release of a report in Washington on the foiling of intentions by two Iranian nationals to assassinate the Saudi ambassador to the U.S. and to carry out an attack on the Saudi Embassy in Washington, Iranian regime representatives and the Iranian media denied the allegations.
In Iran, the affair is being referred to as an "evil plot" of the U.S. administration which has been damaged by the fall of the Middle East regimes identified with it. This plot, it is being claimed, was aimed at diverting the attention of the American public from the Occupy Wall Street protests, and also at distracting public attention in the Middle East from the Islamic awakening, at sowing severe discord between Tehran and its neighbors, and at extricating Israel from its isolation.
Regime officials' reactions reflected fear of a harsh response by Saudi Arabia, as Saudi-Iran relations are already tense following the Bahrain crisis, and also fear of a U.S. military response.
The following are several highlights of initial Iranian reactions to the report of the affair:
(read the full article at MEMRI)
Iranian Foreign Ministry Spokesman: It's a U.S.-Zionist Plot; Iran-Saudi Relations Are Based On Mutual Respect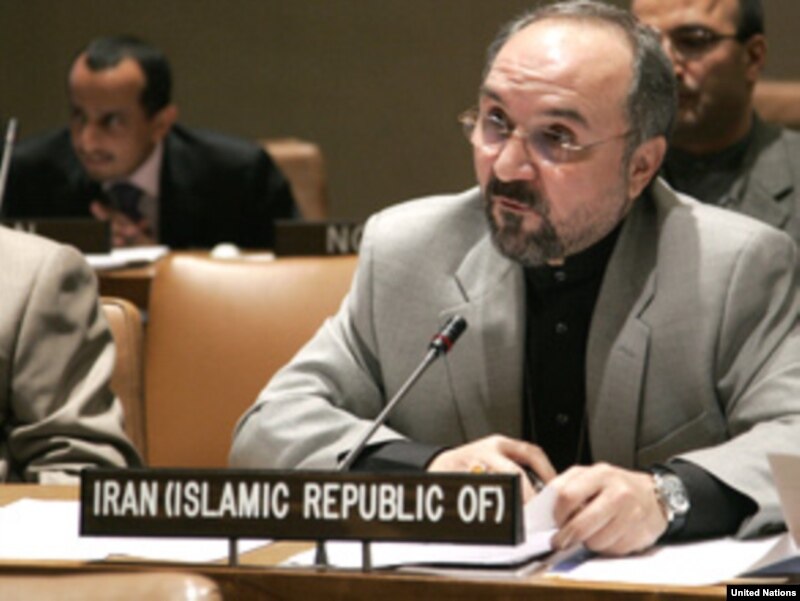 Iranian Ambassador to UN
Iranian Ambassador In Letter To U.N. Secretary-General: This "Evil Plot" Will Have "Detrimental Effects On Peace and Security"
Iranian Majlis Speaker: The Americans Have Started a Children's Game To Divert Public Attention From Its Domestic and Middle East Problems
Majlis Supreme National Security Committee: This "Big Lie" Will Not Extricate the White House From the Wall Street Uprising
Entekhab: The Lack of a Determined, Effective Response Could Lead to a Military Attack Against Iran