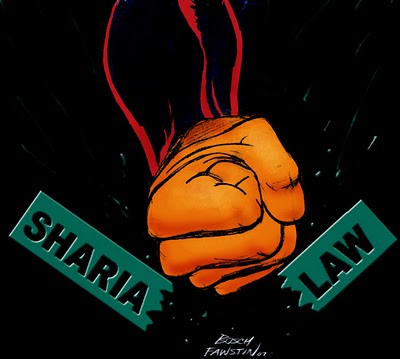 Our next president must be a man who uses the resources at his disposal to resist, reject and prevent the implementation of Sharia law anywhere, at any time, under any circumstances in the United States.

Sharia law is already making encroachments in American culture in large ways and small, whether it's Target cashiers getting a pass for refusing to serve customers who want to buy bacon, or Christians being arrested for handing out free copies of the gospel of John to Muslims on a public sidewalk.
But making concessions to Sharia law over against the moral code of the Judeo-Christian tradition is nothing new for America. We started doing it in 1619 when we began to tolerate the slave trade, as the first shipment of 30 African slaves arrived on the shores of Virginia.
By the way, the first legally recognized slave in America, John Casor, was actually the property of a black man, a colonist by the name of Anthony Johnson. A Northampton County court ruled in 1654 that Casor was "owned" by Johnson, and was his property for life. There were many black slave-holders in the South at the outbreak of the Civil War, and many of them took up arms against the North.
Here's how Thomas Sowell puts it: "[T]here were thousands of … blacks in the antebellum south who were commercial slave owners, just like their white counterparts. An estimated one-third of the 'free persons of color' in New Orleans were slaveowners and thousands of these slaveowners volunteered to fight for the Confederacy…"
The slaves who were brought here in chains in 1619 were Africans who had been kidnapped by other Africans and sold to slave traders who in turn brought them to America. The kidnappers, the ones who went into the interior of Africa to capture their fellow Africans to sell them into bondage, were predominantly Muslims.
In fact, according to Thomas Sowell, a million or more Europeans were enslaved by Muslim pirates from North Africa from 1500-1800, and whites were sold at slave auctions in Egypt until at least the year 1885. Muslims still openly practice slavery today in places like Mauritania, Saudi Arabia and Sudan.
Muhammad himself practiced slavery, and directed his followers to do the same. Since Muhammad is the ultimate role model for Muslims, and Muslims believe that everything he did will be worthy of imitation until the end of time, slavery will always have moral approval in Islam.
Estimates are that over 17 million slaves were transported out of Africa by Islamic slave traders, and a staggering 85 million are believed to have died en route. About 645,000 of those wound up in what became the United States.
Quoting Sowel
l: "…the region of West Africa…was one of the great slave-trading regions of the continent – before, during, and after the white man arrived. It was Africans who enslaved their fellow Africans, selling some of these slaves to Europeans or to Arabs and keeping others for themselves.
Even at the peak of the Atlantic slave trade, Africans retained more slaves for themselves than they sent to the Western Hemisphere
…
Arabs were the leading slave raiders in East Africa, ranging over an area larger than all of Europe
." (Emphasis mine.)
Now, in contrast to Islam and Sharia, the Judeo-Christian tradition from day one has been adamantly opposed to the slave trade.